This is the touch pad :---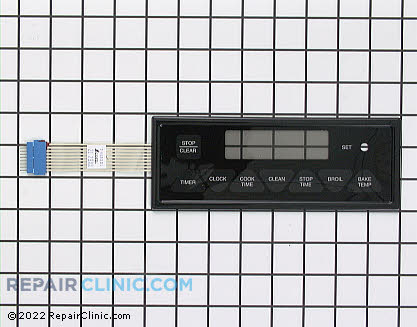 This is disassembly diagram:---
see part number 1, that is touch pad.
To replace touch pad there are few procedures, that will help you.
Procedure 1:----
First remove all burners.
All you had to do was remove the burners by turning them half a turn to the left and pull up, then disconnect the wires and lay the burners out in the order they were removed. Then remove the six screws holding the top to the burner elements and remove the top, rotating it from the back up. Remove the membrane from the front of the range by peeling the adhesive away, and disconnect the six prong connection, then reverse the procedure and you're done.
Loosen the bottom of the front panel by the door and then work your fingers inside the opening behind the gas knob to pull off the control panel(touchpad membrane) and to replace it that way how it came out.
On some models the touch pad is glued in inner side and there are screws.
There are a few screws holding on the control board and touchpad from the back of the control panel that you will need to remove the unit.

Remove the cover on the rear of the control panel.
Remove the screws that mount the control to the control panel. These screws hold the touchpad on also.